Submitted by
Saloni
on Wed, 10/26/2011 - 09:28
Posted in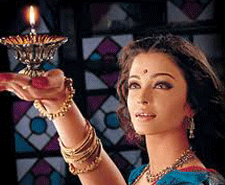 Diwali - The festival of lights has always been an integral part of Bollywood movies. So here's Bollywood wishing you Happy Diwali...
Abhishek Bachchan: Wish you all a very HAPPY DIWALI and a prosperous and peaceful new year. Lots of love.
Shilpa Shetty: A very Happy Diwali to you and your family, all my tweetos:). May it usher in prosperity, peace happiness and success.
Arjun Rampal: Happy happy Diwali, beautiful people...wish you all, all the happiness, brightness, health, wealth and lots of love.
Lara Dutta: Wishing everyone a very happy Diwali. May the goddess Lakshmi bless your home and shower you with her love and spirit of generosity.
Riteish Deshmukh: Wishing you all a happy n safe diwali. Due to work Missing Diwali back in my village this year too. Deepawalichya haardhik shubhechya
Preity Zinta: Happy and a Safe Diwali to all my friends all over the world ! Time for Lakshmi Puja, Yummy Indian sweets and finally Home sweet home :-)
Sonam Kapoor: Happy deeps people!
Karan Johar: Make an enemy a friend..make a parent proud..make your love..love you more...bring the weekend energy into your week! Be happy this diwali!
Akshay Kumar: You guys wanted ACTION, I'm gonna give you Action Ka Baap, ROWDY RATHORE! Here's another dose of Rowdyness. Diwali Mubarak from Rowdy Rathore aka me :) Hai na dhamakedar?
Vivek Oberoi: This Diwali, may your lives be filled with love, light & happiness! Wishing you all & your families a very happy and prosperous year ahead!
Sonu Nigam: Happy Deepavali to my musical family. God bless you all and prayers... light, life, peace, prosperity...and lots of money.
Madhur Bhandarkar: May the Divine light of Diwali spread into your life peace, prosperity, happiness and good health. Wishing you all a Happy Diwali!!
Raveena Tandon: How I love this season...twinkling lights, a nip in the air and everyone dressed traditionally, happy and good wishes, such a positive vibe.
Javed Akhtar: May the lights of Diwali lead us to the path of prosperity and progress, peace and love.
Gul Panag: Happy Diwali!!
Jay Sean: Happy diwali to all my fans celebrating!!!! Love ur fam..never take em for granted!!!
Vir Das: Happy Diwali. May your phuljari never go out and your anaars reach the sky......er......yeah.
Shekhar Kapur: Light up ur homes 2 guide spirit of equality n justice fr all this Diwali. Blessings of others r ur most valuable wealth
Ram Gopal Varma: I wish a tragic diwali to all ur enemies nd hope tht their ear drums will shatter their fingers will burn nd their happiness becomes empty

Uday Chopra: Ok I'm succumbing to all the happiness around me and wishing everyone a very happy Diwali..I guess, smiling, even when fake makes u feel gud
Mere Tumhare Sab Ke Liye...Happy Diwali