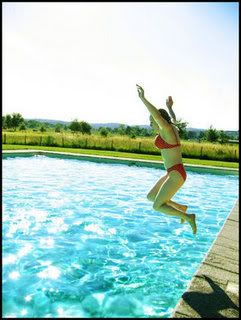 Everybody loves to swim! If you know how, that is. Millions of people hit the swimming pools during summer. No matter which part of the world you belong to, the picture is pretty much the same. When the mercury level goes up...people love to take the dip. But did you know that public pools can literally be Petri Dishes, home to thousands of germs?
Chlorine in the right concentration does a fairly good job of disinfecting water. But regardless, germs do survive up to days in the chlorinated pool water. So it does not fully cover you. Don't get me wrong here; this post is not about the pool boogieman. It's about knowing what lurks in the apparently crystal clear pool water and how to avoid falling sick.
Here are a few healthy swimming guidelines that we have compiled for you, so that you and your loved ones may continue to make swimming an enjoyable experience this summer.
Health Rules for the Pools:
DO NOT swallow the water! This is the most obvious one, remember, it's everybody's bath water and chlorine does not kill all the germs.
DO NOT enter the water if you have diarrhea. People can spread germs in the water even without having an "accident."
DO take a shower before and after the swim. This helps to avoid spreading germs to others and also gets the chlorine off your skin after the swim.
DO wash your hands and bottom thoroughly with soap and water after a bowel movement or changing diapers. Germs on hands end up everywhere, including the water.
DO notify the lifeguard if you see fecal matter in the water or if you see persons changing diapers on tables and chairs.
Note to Parents:
DO take your child to the toilet for bathroom breaks often.
DO change diapers in a bathroom, not near the pool or shore. Germs can contaminate surfaces and objects around the water.
DO wash your child thoroughly, with soap and water before and after swimming.
DO NOT count on swim diapers or pants to keep fecal matter from leaking into the water. These products are not leak proof.
DO keep an eye on your child at all times. Remember, kids can drown in silence.
DO protect your child against sunburn by using a sunscreen with at least SPF 15 and both UVA and UVB protection, and be sure to re-apply it after swimming. Even a few serious sunburns can increase the risk of getting skin cancer.
DO NOT allow your child to chew gum or eat while swimming or playing in the water. Chewing or eating while swimming could cause choking.

Information Source:
Centers for Disease Control and Prevention