Posted in
Hello again everyone. I am so happy you have stopped by to try out another healthy dish from my kitchen. For today's post, I am sharing some Avocado Kebabs or you may call them burgers. They taste just as good with chutney or as between buns.
Avocado is a very healthy and nutritious fruit. It is a good source of heart healthy mono saturated fats believed to lower the cholesterol. One of the most common uses of avocado is in making guacamole but it can be enjoyed in salads, smoothies as well as in cakes and pudding.
Let's give a twist to the avocados and make some kebabs today.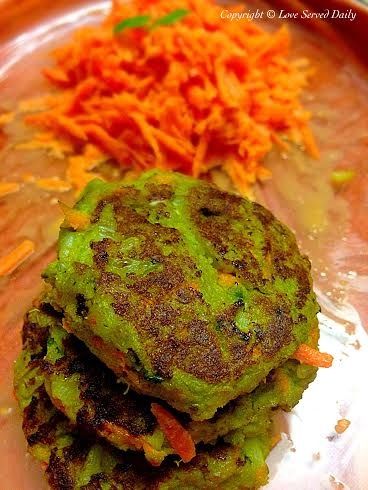 Avocado Kebabs
Ingredients:
Ripe Avocado – 1
Onion – 1, small, finely chopped
Carrot – 1 medium, finely shredded (you can also use beetroot here)
Garlic – 2 cloves, finely chopped
Ginger – ½ inch, finely chopped
Green chilies – 1, finely chopped
Semolina or Sooji – 1 tbsp
Corn flour – 1 tbsp (this is for binding, other options you can use here is half a small boiled and mashed potato or mashed rice – 2 tbsp)
Cumin Powder – ½ tsp
Chopped Cilantro – 1 tbsp
Salt to taste
Oil – 1 tbsp
Method:
Cut the avocado and scoop out the flesh. Discard the seed. Mash the pulp well with a fork.

Add in the chopped onions, garlic, ginger, green chilies, shredded carrots, sooji, cornflour, cilantro, salt and the cumin powder. Mix everything well.

Heat oil in a large griddle and make small patties of the mixture.

If the mixture is a little runny, wet your hands. That really helps to form the shape.

Cook them on medium flame, 3 minutes on each side.

Serve hot with mint chutney and onion rings or with some salad on the side.

For the salad I have just mixed shredded carrots with salt, pepper and vinegar.
So there you have it. An easy and healthy appetizer option that you can enjoy guilt free.
Do give it a try and let me know.
Thanks so much for reading.
Love,
Ritu
------------------------------------------------------------------------------------------------------------------------------
About the Column :They say - You are what you eat. I truly live by this quote. I am such a health freak. As much as I love to eat, I strongly believe in eating right. Making the right food choices is very important for a balanced lifestyle. I therefore make a sincere effort to eat healthy and nutritious food without compromising on taste. Through this column, I would like to share such recipes with you that provide you the nutrition, taste great and most of all you can enjoy them guilt free. Follow me here to make some easy and healthy dishes that you wouldn't feel guilty about when you take that second serving.
About the Author: Ritu Taneja Mehta is a Cost Accountant by education, Financial Analyst by profession and a Stay at Home Mom at the moment.
Here is what she says about herself - A few years ago I would have laughed at the prospect of writing a food blog. Expecting someone to guide you on a recipe whose own cooking experience before her marriage has been next to nil is quite unbelievable. A foodie husband and his love for socializing ensured I do get a lot of cooking practice. And when I finally decided to be a SAHM, it gave me an opportunity to enhance my culinary skills. A lot of it was inspired from a number of food blogs on Facebook and some very talented people I met there. I love to cook, especially a lot of healthy dishes. Join me in this culinary adventure where we talk about our favorite topic - Food.