Posted in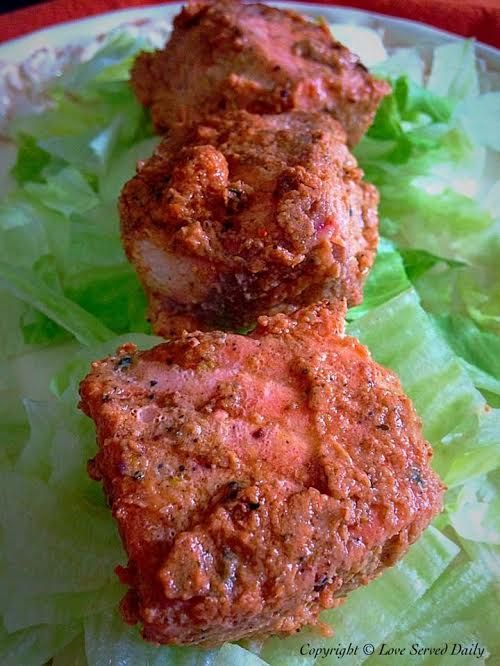 Tandoori Salmon
Hello everyone. I am back with another healthy recipe. If you like tandoori flavors, you will love this tandoori style salmon. If you eat just one fish, make sure it's salmon. It's definitely one of the healthiest fish that provides hearty healthy nutrition, omega 3 fatty acids, proteins, vitamin B 12 etc. the fish has a peculiar taste but once you try it, especially with these Indian flavors, you will love it.
It's a pretty simple recipe. Just mix, marinate and bake.
Here is how I make it :
Ingredients:
Salmon Fish - 1 pound
Thick yogurt - 3 tbsp
Ginger and Garlic paste - 2 tbsp.
Lemon Juice - 1 tbsp
Oil - 2 tbsp., more for basting the fish, as needed
Salt to taste
Tandoori Masala - 2 tbsp. (See notes for recipe or use store bought)
Method:
Wash your fish well and soak it dry. Meanwhile, mix together the yogurt, ginger garlic paste, lemon juice, salt and the tandoori masala. Now coat the fish well in marinade. Finally drizzle 2 tbsp. oil on top and mix well. The oil helps the marinade to stick to the fish.
A zip lock works best here. Just transfer the marinade and fish pieces to a zip lock, mix well and let it rest in the fridge for at least 1 - 2 hours.
Once you are ready to cook, preheat your oven to 400F. Line a baking dish with foil. Carefully place the marinated fish on the baking dish and bake for 15 minutes, turning mid ways to ensure even cooking. Apply some oil, if needed.
You know the fish is done when it flakes easily with a fork. Now, turn on the broil or grill mode and cook for a few minutes to get a beautiful color and crisp to your fish.
Serve it hot with some mint chutney and onion rings.
Notes:
Tandoori Masala Recipe
Red Chilly Powder – 1 tsp
Coriander Seeds – 1 tsp
Cumin Seeds – 2 tsp
Nutmeg Powder – 1/2 tsp
Black pepper Corns – 1 tsp
Whole Cloves – 1 tsp
Cinnamon Stick – 1 inch piece
Paprika – 1 tsp
Red color – 1/4 tsp (optional)
Roast all these spices in a pan for a few minutes until fragrant and ground to a fine powder. Use as needed.
So that is how I made this delicious fish. Do let me know if you give this a try.
Thanks for stopping by.
Love,
Ritu :)
----------------------------------------------------------------------------------------------------------------------------------
About the Column :They say - You are what you eat. I truly live by this quote. I am such a health freak. As much as I love to eat, I strongly believe in eating right. Making the right food choices is very important for a balanced lifestyle. I therefore make a sincere effort to eat healthy and nutritious food without compromising on taste. Through this column, I would like to share such recipes with you that provide you the nutrition, taste great and most of all you can enjoy them guilt free. Follow me here to make some easy and healthy dishes that you wouldn't feel guilty about when you take that second serving.
About the Author: Ritu Taneja Mehta is a Cost Accountant by education, Financial Analyst by profession and a Stay at Home Mom at the moment.
Here is what she says about herself - A few years ago I would have laughed at the prospect of writing a food blog. Expecting someone to guide you on a recipe whose own cooking experience before her marriage has been next to nil is quite unbelievable. A foodie husband and his love for socializing ensured I do get a lot of cooking practice. And when I finally decided to be a SAHM, it gave me an opportunity to enhance my culinary skills. A lot of it was inspired from a number of food blogs on Facebook and some very talented people I met there. I love to cook, especially a lot of healthy dishes. Join me in this culinary adventure where we talk about our favorite topic - Food.