Submitted by
B-Khush
on Sun, 07/31/2016 - 23:24
Posted in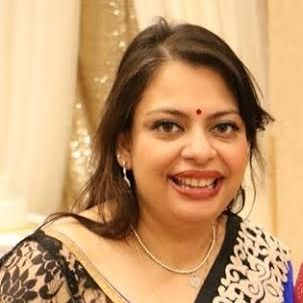 If you can't fly then run, if you can't run then walk, if you can't walk then crawl, but whatever you do, you have to keep moving forward." – Martin Luther King, Jr.
Our column "Innovative Minds" is a celebration. It's a column where we will talk to all those fresh, talented women entrepreneurs who are following their passion...chasing their dreams...and making a difference by inspiring others.
This week we had the pleasure to talk to Nilanjana Chakraborty the proud owner of ShopBollyWear.com the largest online marketplace for Indian and Bollywood-inspired fashion wear serving USA and Canada.
Nilanjana, tell us about yourself
I am a second-generation Indian American born in Kolkata, India and immigrated to the USA with my parents, Atal and Ratna Roy, at the age of two. I grew up in Pittsburgh, PA and attended the University of Pittsburgh with a degree in Economics and Political Science. I started my career in Banking & Finance and than started my own business as a Wedding Planner.
Who or what inspired you to start your boutique?
I grew up with a mixture of both eastern and western culture and always had a passion for Indian ethnic wear. I grew up watching Bollywood movies and was inspired by the Indian clothes the actors and actresses wore. In the 80's it was hard to acquire Indian clothes for weddings, parties or events unless one travelled to India and brought ethnic outfits back from there. As years passed as a wedding planner I saw how second generation Indian Americans wanted to dress like Bollywood stars for all festive events especially weddings but didn't have the time to travel to India to shop. I came up with the idea to provide an avenue to Indian Americans in USA to purchase Bollywood inspired clothing hence came up with the idea of
ShopBollyWear.com
I currently reside in Minneapolis, MN with my husband, Pinaki Chakraborty and my daughter (6) Anusha Chakraborty and son (4) Arnav Chakraborty.
Tell us about about your brand. What makes it unique?
ShopBollywear brings to Indian Americans a fabulous array of the latest fashion trends from India. The easy accessibility, the ready to wear collection and the touch of extravagance are the reasons that make the brand unique. Our collection appeals to second generation Indian Americans and the mature Indian American diaspora too.
A message for the aspiring women entrepreneurs.
"Next time, ask: what's the worst that will happen? Then push yourself a little further than you dare. Once you start to speak, people will yell at you. They will interrupt you, put you down and suggest it's personal. And the world won't end … And the speaking will get easier and easier. And you will find you have fallen in love with your own vision, which you may never have realized you had. And you will lose some friends and lovers, and realize you don't miss them. And new ones will find you and cherish you … And at last you'll know with surpassing certainty that only one thing is more frightening than speaking your truth. And that is not speaking." – Audre Lorde
The upcoming events
We will be having a booth at the Kala Art Fair on August 13th from 11AM to 4pm at the Hindu Temple of Minnesota
Address : 10530 Troy Ln N, Maple Grove, MN 55311.
How can the readers get in touch with you?
We would love to hear from you! If you have a question regarding your order or general inquiries feel free to call us or send us an email and we'll respond as soon as possible.
Email : shopbollywear@gmail.com
A peek into the colorful world of ShopBollyWear.com :