Posted in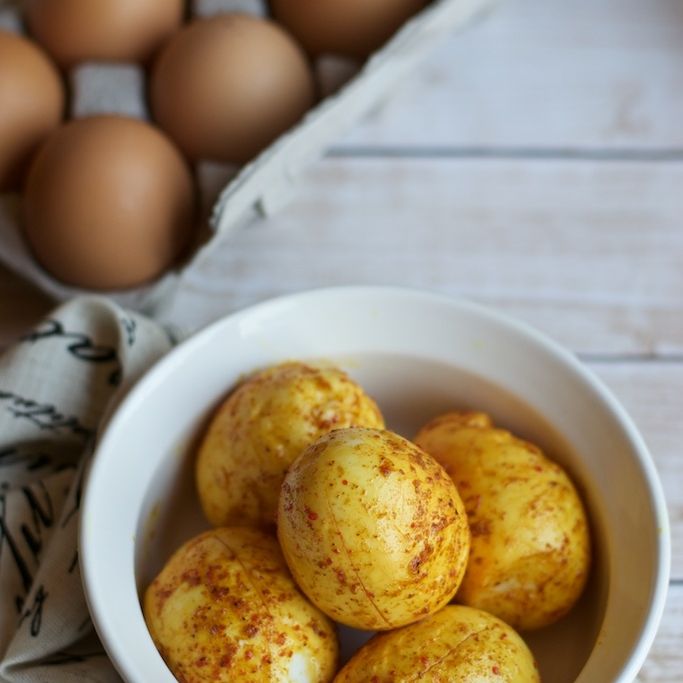 Masala Egg roast is perfect for days when you want to make a quick, simple, and healthy dish to feed your kids when they come home ravenously hungry after school or from their activities.
Ingredients
2 tablespoon oil
¼ teaspoon salt
¼ teaspoon turmeric powder
½ teaspoon chili powder
5 hard-boiled egg
Instructions
In a small bowl, add oil, turmeric powder, salt and chili powder and mix well.
Make 4 equidistant slits on the boiled eggs with a knife ( don't cut them too deep).
Add the boiled eggs to the oil-spice mixture and coat the eggs till they are fully covered in the mixture.
On medium heat, heat a pan and then add the boiled eggs along with the mixture.
Swirl the pan every minute or so to prevent eggs from sticking to the pan. Cook for 3-4 minutes and take off heat.
Serve hot.
A little history on this recipe :
Masala Egg Roast is a must-have item in the baby shower (also called as Bayake) ceremony for folks who hail from the Bunt community in Mangalore. This ceremony is usually held on the 5th, 7th or the 9th month. During the baby shower, the soon to be mom feeds this Masala Egg roast to a boy and a girl child. If the mom desires a girl, she would feed a girl child first or vice versa.
As a kid, I thought that was a pretty fascinating and would always wanted the first one to be fed the egg. That was so, because for one – I loved Masala Egg roast and second – I would be damn hungry by the time the ceremony started.
Masala Egg Roast also makes for a great appetizer. It is also perfect for the times when you have unannounced guests (which used to happen a lot in India during a time when phones were not so common)
-------------------------------------------------------------------------------------------------------------------------------------------