Submitted by
Antara
on Fri, 08/16/2013 - 01:48
Posted in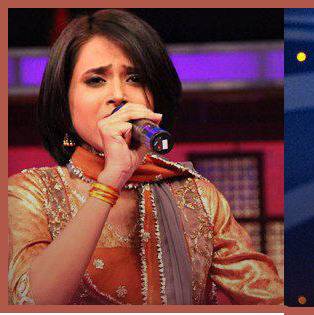 In a tete a tete with Sniti Mishra, the upcoming singing talent of India. Millions of viewers all over the world fell in love with Sniti's unique voice when they heard her on Zee TV's reality show Sa Re Ga Ma Pa in 2010. Her talent was applauded by the well known names of Indian film industry. In this interview Sniti talks about her musical journey, her ongoing US tour and much more.
When did your musical journey start...how old were you when you got introduced to music?
I was FOUR years old when I started singing. But I started learning Hindusthani Classical when I was TWELVE.
How did Zee SaReGaMa Pa happen? how was the experience?
I was studying Management in 2010 and went for the audition when my mother informed me about the Zee Sa Re Ga Ma Pa singing superstar. After watching its date and venue on TV. I went there to try and got selected.The complete journey of SaReGaMaPa was a life changing experience for me. It gave me a platform to showcase my talent in front of 160 countries and also I got in touch with many eminent personalities through this show who taught me the nuances of music and inspired me a lot.
You did not win the competition but you got the award of the "most remarkable voice of the series" how did you feel? Would the feeling be any different if you were the winner?
It was a very good feeling when I got this award from Zee TV. I was definitely happy but I think no taste is sweeter than the taste of winning. :)
How did your life change after the competition?
Through SaReGaMaPa I got my recognition so yes it was a stepping stone for my career. I was more confident than before. Now, where I stand, that's because of this show, but a long way to go. The love and appreciation I received from people worldwide was something that I always owe to Zee TV, for sure.
Are we going to see you in Bollywood as a playback singer anytime soon? What are your upcoming projects?
I hope so, but the opportunity has to be right. Currently I am more focused on fusion classical and I enjoy this form the most. My next project will be making something for my own. I am working on it. I'll focus on it more after this US tour.
Tell us about your ongoing shows in US. How did you get associated with Antariksh?
I have already performed in Chicago, Atlanta, Phoenix ,LA, Seattle and Portland so far. And now I am in San Francisco for my shows on 17th and 18th as you know. I feel great performing in front of these wonderful audience here. All the details are posted on my Facebook and twitter pages. I have launched my website www.snitimishra.com where everyone can get my event schedules and updates. Also they can send me their requests and inquiries directly. I started working with Satyajit Bhai(Satyajit Sahu) who is the band leader of the Antariksh, just before a year. I knew him from the days of SaReGaMaPa. He introduced me to the other members of Antriksh and we did some good music together based on sufi and classical this year. It's always a great fun and learning experience for me working with Antariksh.
And finally your message for the aspiring young singers?
Music is definitely not an easy rosy path. Success comes with lot of toils and hard work. So my message to the aspiring singers will be: never lose hope, no matter what happens. Have faith in yourself, focus on your goal and work hard to achieve it. Always be honest to yourself and take criticism with a positive attitude.
Sniti has mesmerised her audience over and over again...